Learn With Testking Study Guides
Prepared by industry experts, our state of the art Study Guides ensure you understand all concepts necessary for taking a certification exam. Each study guide is accompanied by Labs and practical exercises to prepare you not just for your exam, but for the challenges of the IT industry.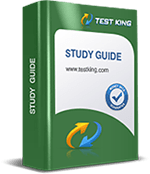 PDF format: use on PC, Mac, Pocket PC, PDA, smartphone
Written in plain English, for non-certified professionals
Prepared in accordance with vendor-specified guidelines
Contain Labs and practical exercises, giving hands-on experience
Equips you to handle common IT problems
See Samples of Study Guides
Used alone or in combination with our other leading products (Questions & Answers, Audio Exams, Video Courses), our Study Guides give you an unequaled combination of theory and practical knowledge. Pass your next IT certification exam, guaranteed!