Testking Audio Guides
Provided in world's most popular MP3 format, Testking's Audio Exams can be played on virtually any media player. Learning is easy and painless. Prepare while commuting to work!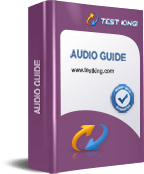 MP3 format: use on iPod, thumbdrive or any Media Player
High and Low bandwidth options
Study guide format for easy understanding
Perfect complement to Q&A, Study Guide or Video Courses
Between 25 and 90 minutes (depending on exam)
Use them anywhere
Great for multitasking and commuting
See Samples of Audio Exams
While we don't recommend Audio Exams alone, they are the perfect companion to our Study Guides and Questions & Answers.