How To Give Your Photos A Lomo Effect [Photoshop Tutorial]
on September 24th, 2010

Obviously, you're pretty much into lomo yes? Then you've come to the right site.  This Photoshop tutorial will help you get that lomo effect even without a lomo camera.  Your cheaper alternative to getting that oversaturated, cool-looking photos you have always wanted.  Good deal huh?
If you already have been awarded with your very own Photoshop certification, this will most definitely be a breeze no questions asked.  But for you, who are only beginners and still working your way through photo manipulation, do not fret.  We will try to make this Photoshop tutorial as simple and as understandable as possible.
BUT BEFORE WE START! Let us get to know a few facts first.
What is LOMO?
LOMO, short for "lomography", is a kind of art photography which uses analogue cameras that generates photos primarily characterized by high color saturation, off-kilter exposure, vignettes (dark and soft-focused edges), and blurry images.  It comes with a "Don't Think, Just Shoot" motto from shooting everyday objects, random people and spontaneous moments.  The result: photos in unique and interesting effects.
The word "lomo" actually originated from an optics manufacturer LOMO (Leningrad Optical and Mechanical Union) in the Soviet Union.  This Russian company created "Lomo Kompakt Automat" (Lomo LC-A) in 1982, a low-tech plastic camera which unexpectedly became the centrepiece of what we now know as lomography.
About a decade later, two students from Vienna, Austria discovered this Lomo LC-A and began to form a unique style of experimental photography.  Their technique was taking the most number of photos possible of anything under the sun from the weirdest angles and in the most unusual manner.  After which, they subject their films to cheap processing alternatives thereby generating vibrant and bizarre-looking photos that was sure to catch the eyes of many.
Not for long, these two Viennese established Lomographische AG, a commercial company for photography products and services, and founded the Lomographic Society International.  With a community of lomographers totalling to around 500,000 members and counting, the two experimental artists encouraged a new photographic movement that was directed towards candid photography, photo reportage and photo verité.
Lomo cameras come in different varieties.  As of today, we have the Lomo LC-A, Diana, Holga, Holga 35mm, Actionsampler, Frogeye, Pop-9, Oktomat, Fisheye, Fisheye2, Colorsplash, Colorsplash Flash, F-stop Bang, SuperSampler, Horizon 202, Seagull TLR, and Smena 8M.
Lomographers live by 10 golden rules:
1.     Take your camera everywhere you go.
2.     Use it anytime, day and night.
3.     Lomography is not an interference in your life, but a part of it.
4.     Try the shot from the hip.
5.     Approach the objects of your lomographic desire as close as possible.
6.     Don't think.
7.     Be fast.
8.     You don't have to know beforehand what you captured on film.
9.     Afterwards either.
10.  Don't worry about any rules.
With lomography, you have the freedom to be as carefree as you wish and you do it with flair.  No wonder it has become a huge fad especially among the youth.  A toy-like camera that is both functional and fashionable is a sure hit.  Its portability and special features allows you to not only document everyday life but also make memories that will last a lifetime.  Who would not love the quirky and vibrant art that is lomography?
How To Give Your Photos A Lomo Effect
Now that we have all the facts covered, let us get started with this Photoshop tutorial.  Open an image and get ready to lomofy!  (If you have previously started on an image before this, make sure that you flatten all layers first before we begin.)
1. Start with widening up the lens angle a little. Click Filter > Distort > Lens Correction and drag the top slider (Remove Distortion) a tiny bit to the left.  Make sure to not go overboard.  When your photo has slightly warped, you are good to go.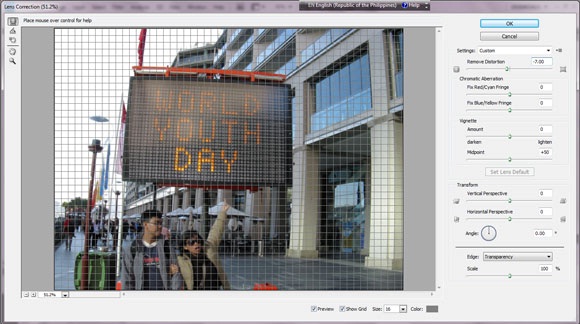 2. Duplicate the image layer and press Q to enter Quick Mask mode.  To make sure you're painting in black, hit D then press B to select the brush tool.  Choose a big wide brush, and at full opacity and a low flow, paint in most of the image.  Avoid the corners.  By now, you should have a huge hazy circle in the center of your photo.  Press Q again to exit Quick Mask mode.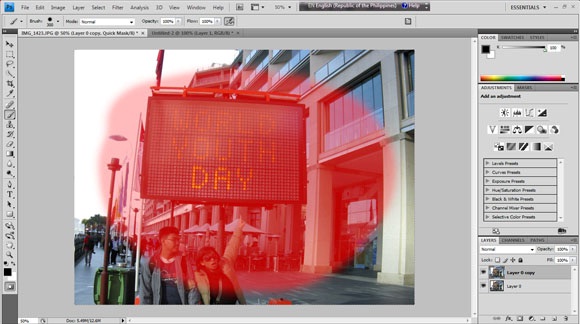 3. Go to Select > Modify > Feather and enter any number between 10 and 20 into the box. Click OK.
4. Go to Filter > Blur > Lens Blur to give your image a small amount of blur.  Click OK.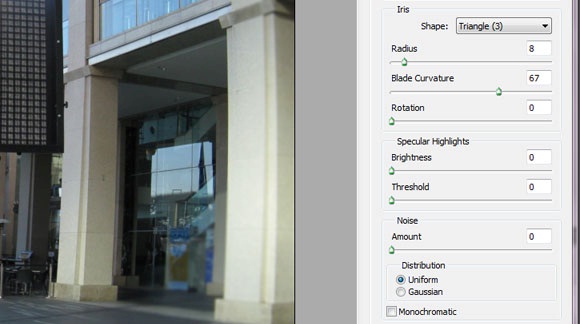 5. Hit Q again, then B again for your big wide low-flow brush.  Paint in almost all the image again, avoiding the corners like before.  Press Q again to exit Quick Mask mode.
6. Go to Select > Modify > Feather with the same number you previously entered.
7. Make a Curves Adjustment Layer and drag the line downwards until the corners of your image get really dark.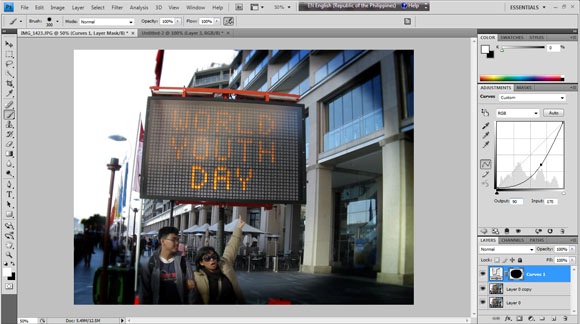 8. Make another Curves Adjustment Layer then give your image a tiny little "S curve".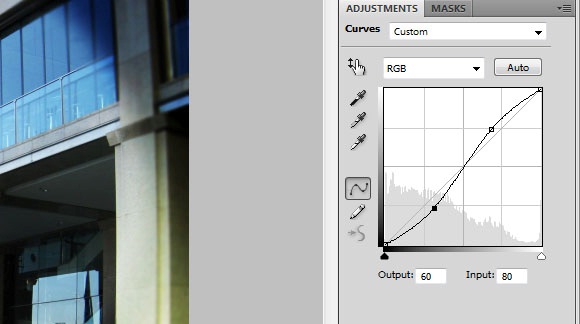 Next, go to the Red Channel and drag the top right point toward the left a little less than 1/4 of the way.  Then take the bottom left point and move it to the right a little more than 1/4 of the way.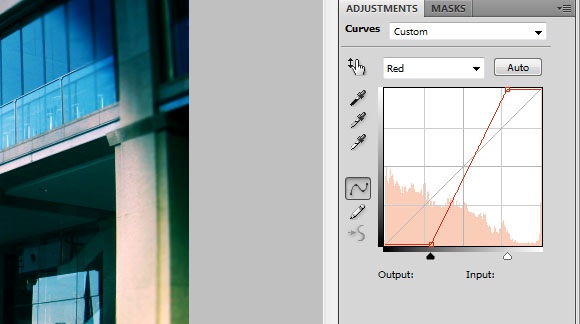 For the Green Channel, click on the part of the line in the top right quarter of the graph to make a dot.  Drag this dot a little to the left.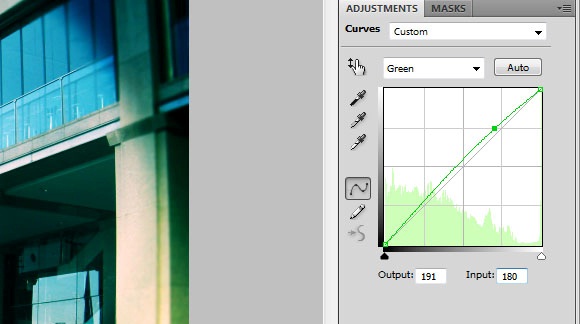 For the Blue Channel, make a dot in the same area but drag this one down and a little bit to the right.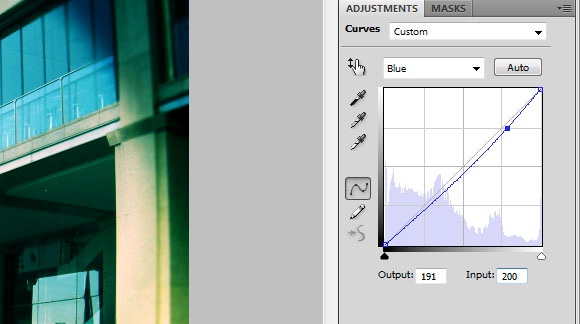 9. Hit Q again, and B for your big wide low-flow brush.  This time, paint a huge circle almost the whole height of your photo but place it a bit off center and have it somewhat askew.  The more imperfect your circle is, the better.  When you are satisfied with your circle, hit Q to exit Quick Mask mode.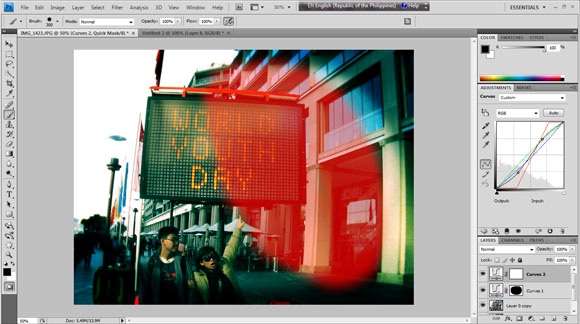 10. Go to Select > Modify > Feather again.  Enter a number a little higher than your last one then make another Curves Adjustment Layer.  Create a dot in the middle of the line and drag it down about 1/4 of the way toward the bottom right of the graph.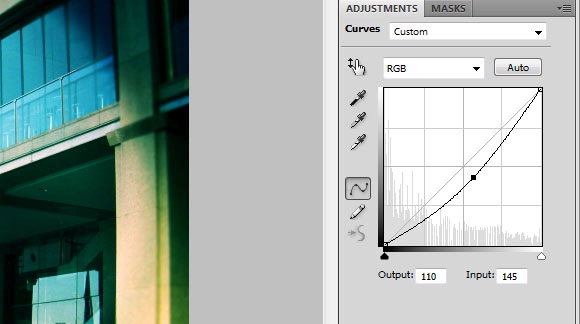 BEFORE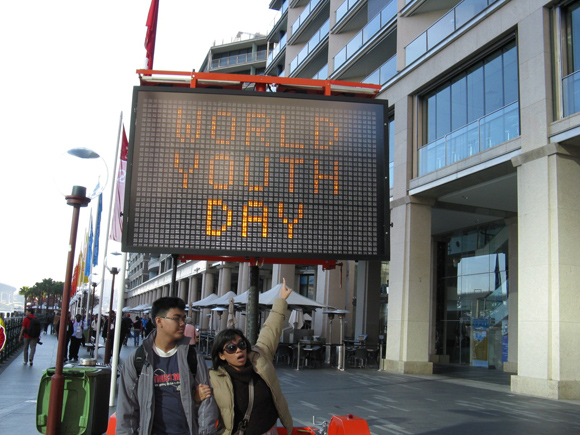 AFTER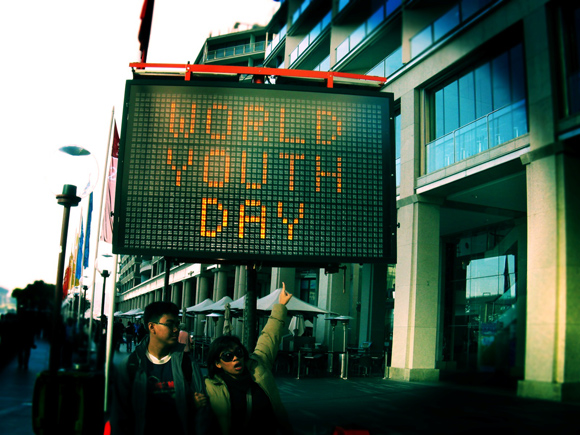 VOILA!  You did it!  Your image now looks like it was taken using a low-tech plastic camera with a cross-processed film.  Pretty groovy huh?  You can play around with the settings in the steps of this Photoshop tutorial and experiment as much as you like until you find the numbers that work best for you.
Check out our upcoming tutorials and sharpen your Photoshop skills in no time.  Pretty soon you will be one of those with a Photoshop certification.  Now that would be cool.
Have fun and enjoy!
займ на киви кошелек без отказа
zaymi-bistro.ru
займы онлайн на карту без проверок срочно
payday loans are short-term loans for small amounts of money
https://zp-pdl.com
payday loans online