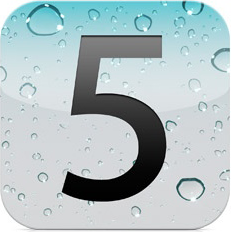 iOS, the operating system, which runs on iPhone, iPod, and iPod Touch was known as iPhone OS before June 2010 and at the time of this writing is the third most popular smartphone operating system, holding 16% of the global smartphone market. From the date of its original release, it has been updated every single year, with every update adding some exciting features and the next version, iOS 5, which is expected to be released in the fall, is no different. Apple promises more than 200 new features, among which iMessage, Notification Center, Newsstand, Reminders, new Camera and Twitter integration. In addition, iOS 5 comes with iCloud, the "storage in the clouds," which allows users to share seamlessly and effortlessly all their apps, photos, music, and documents across multiple devices.
What is new in iOS 5 and which are some of its most exciting features:
Notification Center
Email messages, instant messages, text messages, and friend's request, all of them will be aggregated by the Notification Center and accessed by swiping down the screen of and iPhone, iPod, or iPod Touch. Mini widgets will also be part of the Notification Center and will be able to display up-to-date information on stocks or weather.
Newsstand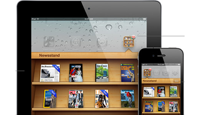 The feature which will help users keep their magazine and newspaper apps subscriptions in one place, it will also automatically update the periodicals with the latest edition, and allow the users to access App Store directly.
iMessage
Built into the Messages app, iMessage allows iPhone, iPod, and iPod Touch users to send unlimited text, pictures, videos, contacts, and locations via Wi-Fi or 3G. Additional features such as encrypted text messages, optional read and delivery notifications, group chat, and automatic push of the messages to all iOS 5 devices will allow iMessage users to stay in touch with all their friends and family at all times.
Reminders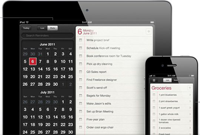 Much more than a simple to-do list app, the iOS 5 Reminders allows you to store date and time, as well as location, so you can get the alert as soon as you enter or leave the set location. Adding a reminder is done with a single tap on the + icon at the upper right or at the next available white space and some additional options such priority level and assigning the reminder to a list are available as well. Using iCloud, iCal, and Outlook, Reminders is synced automatically to all devices, making it easier for the users to remember birthdays, appointments, and meetings.
Twitter iOS 5 Integration
A marriage of the two systems, which will not only allow end users to tweet from their device, but also access the second most popular social network from within YouTube, Maps, Camera, Photos, and Safari. Moreover, developers would be able to connect to the Twitter's API from their apps and make use of all the available features.
New Features for Safari in iOS 5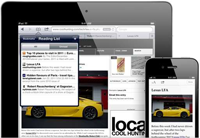 For starters, it comes with tab browsing, which is a standard feature of all latest standard browsers and allows the user to load and check out more than one web page at a time. Integrated is a Safari Reader, which will present the web pages devote of ads and therefore display more content on the screen, while the integrated Reading List is, in essence, an offline browser that would let the users save web pages and articles on their devices. Conveniently enough, iCloud will synch the Reading List to all iOS5 devices that the user has, so he or she can start reading on one of them and continue reading on another.
Mail
The new Mail will change the way messages are sent and received and the users will have more options than ever before. Using Italic, Bold, or Underlined text, creating indents in the text, adding and deleting folders, and searching the message bodies are just a handful of the new features. Integrated in iCloud, the email accounts will be seamlessly updated on all devices as well.
Camera Button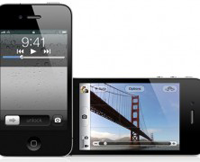 Available from the lockscreen lets the users capture photos instantly and adds pinch to zoom gestures, grid lines, single tap focus; the volume-up button doubles as a shutter button.
PC Free
All minor and major updates from now on will happen PC free, so setting up and activating the updates will be done wirelessly, without having to run cables between the device and a computer.
Game Center
The new and improved Game Center makes playing games even more exciting. Among the new features are achievement points, the ability to add photos to the user's profiles, direct game downloads, turn-based games support, and game discovery option, which allows the user to play with friends and strangers.
iCloud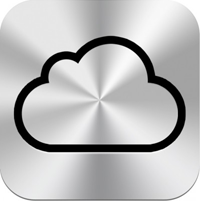 iCloud comes with the new iOS 5, but it deserves a special mention as it is far more than (as Apple puts it) "a hard drive in the sky," and is one of the most outstanding features that all users would definitely appreciate. It allows apps, calendars, photos, music, and other content to be shared wirelessly and effortlessly across all devices.
iCloud integrates with iTunes and allows the users to purchase music, which music will be stored in the "cloud" and then pushed wirelessly to all available devices. iCloud also stores the purchase history and is capable of downloading songs, purchased in the past, to all devices without the need to synch.
Photo sharing with iCloud – if you take a photo with your phone or upload a picture from your camera  to your PC, a copy of the photo will also be sent to your iPad, iPod Touch, Mac, and any other device that you own. iCloud stores up to 1000 photos and keeps the new ones for 30 days, which gives you adequate time to connect to a Wi-Fi or Ethernet network and send them to all your gadgets in a second.
Documents and iCloud – once you create or edit a document, its updated version is saved in iCloud and it will magically appear on all your devices, making it possible to begin editing the document on your iPad and finishing the edit on your Mac.
Mail, Calendar, and Contacts – when you sign up for iCloud, all your new email messages, calendar, and contacts' updates will be pushed to multiple devices automatically, and in addition, you can share your Calendar with other iCloud users as well.
Books – with the use of iCloud, you can download all your purchased books to any of your devices and choose all new purchases to be automatically downloaded to all devices as well. Reading is also synched automatically and once you are done reading for the day, all you have to do is create a bookmark or make a note, and you can continue the next day on any of your devices, exactly from where you left off.
Automatic smart backup – iCloud automatically backs up your music, apps, books, photos, videos, messages, ringtones, device settings, and documents daily over Wi-Fi, but instead of creating the backup from scratch, it only saves information that you have added or files that have changed.
Apps – just like books, the purchased apps are kept in the purchase history, allowing you to download them again on any device you wish at no cost. You can also set iCloud to push newly purchased apps to all devices automatically.
The exact date of the iOS 5 release is not know yet, but the operating system will be offered as a free update to all iPhone 3GS, iPhone 4, iPad, iPad 2, and iPod touch users. Coupled with the nine free cloud services and 5GB of free storage that iCloud offers and more than 200 new features, it is expected to be much more than a simple overhaul.