Web Designer vs. Web Developer – What what should I be?
on July 19th, 2011

Working online or in a young and dynamic IT company as a web designer or web developer has great many advantages and can be quite rewarding and satisfying, but if you have to choose your career path right now, you need to weigh carefully the pros and cons of each option. In addition, if you are about to start working for yourself, you need to evaluate your own capabilities and take a closer look at the earning potentials of each profession. Quite often, the line between web designers and web developers is blurred as most designers are likely to be able to code at least basic web sites and some developers might dabble in web design as well. A web designer is a person, who is capable of designing logos, banners, or other graphical elements, as well as whole web pages, while the web developer is the person, who is more involved on the technical side of the web building and adds functionality to the web sites.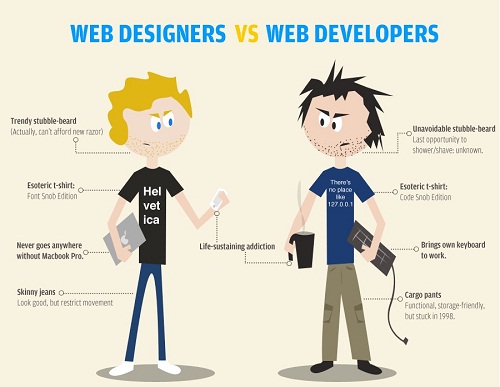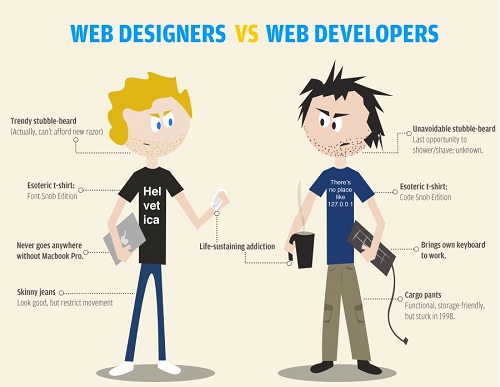 When deciding on your career move, it is always best to start with your own abilities – with practice, everyone could become a designer or developer, but only a small portion of all designers are extremely talented and not all developers are highly skilled. If you are artistic, then looking into designing is logical, and if you love math and tackling logical problems, then becoming a developer or programmer might be your best choice. Both titles are involved in web development and quite often, they have to learn the skills of the "other half" since a designer needs to know how his or her work will fit into the site development and vice versa. When it comes to the learning curve, many consider web development tougher, especially if it involves programming, but this is not entirely true. In order to become a good designer, you would need to spend quite a bit of your time trying new tools, following trends, learning new techniques, and staying tuned to the latest design principles. A designer also needs to be far more creative and when it comes to working with clients, the designer's job could be far more challenging since their work is often evaluated subjectively by the customer.
Both the designers and developers are spoiled for choice when it comes to groups, forums, resources, and sites, where they can find inspiration, learn new skills, speak to likeminded people and colleagues. This is one of the most rewarding parts of working online since you can easily find someone to speak to, ask a piece of advice, or find a resource to master new techniques and learn more on the latest technologies.
Earning potential – statistical data shows that developers have a potential for higher earnings, but this greatly depends on the skill level and various other factors. The higher earnings of the developers are partly fueled by the explosion of the mobile Internet market and the great demand for mobile applications, coupled with the ever-growing demand for interactive Web 2.0 websites. On the other hand, web designers, who know how to market themselves, know how to organize their time better, and work in a specialized market could earn more than many developers.
Both designers and developers are facing similar challenges, but the demand for their services is expected to keep growing, despite the stagnated economy. The number of websites is growing at an exponential rate and individuals and corporate clients are constantly seeking talented designers and experienced developers for their projects. Whatever choice you make, you are likely to be entering an interesting and demanding field, where your own determination and efforts are the only factors that will determine your success or failure. If you decide to start working as a web designer, often you will find yourself working closely with web developers and vice versa, and if one day you decide to run your own company, then having both designers and developers on your team is likely to land you more projects and bring higher profits.