WordPress Themes for Everyone!
on December 2nd, 2010

WordPress has come a long way from being just a tool for bloggers to a full-fledged CMS capable of doing almost anything. Note that I say "almost," because there are still a few things that it can't handle out-of-the-box or even via plugins.
Having said that, it is a perfect platform for most people; and if your website is based purely on content or even has a simple store where all you need to do is sell some products or digital items, you shouldn't even be looking any further than WordPress.
The reason why I say this is three-fold:
It is by far the easiest CMS to use with a very small or nonexistent learning curve at all (at least not for a tech enthusiast yet non-programmer like me)
Plenty of plugins to take care of most of your needs
Some really amazing free as well as premium themes available out there for all different kinds of websites
That last part about themes is the focus of my article today. So without further ado, let's look at some of the themes I've absolutely loved for each category of websites:
Themes for Business
Who needs a website more than a company, right? I mean, you may have heard of a public speaking expert, an accountant, a musician, or even a real estate consultant who doesn't have a website. However, have you heard of any modern day business that doesn't own a website?
Here are some really amazing corporate themes that I think are capable of providing any company with a great-looking website within a few hours provided they have all the content that needs to go those pages:
Boldy by Site5 Web Hosting
This is a very neat corporate theme that has all the elements a common corporate website would need: request quote, featured categories, and a simple contact form at the bottom of every page.
And here's the best part: it's available for download for free!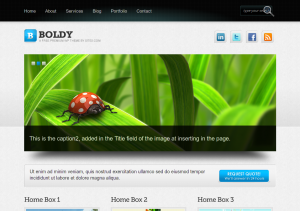 Demo: http://wordpress.site5.net/boldy/
The Professional by Elegant Themes
A simple and clean theme that just works. With extremely smooth menu transitions and excellent typography, this theme gives your website that classy touch.
Watch out for more themes from these guys. After having scoured the web for good themes, I have finally realized that elegantthemes.com is probably the most cost-effective store for some of the best designs for WordPress you'll ever find on the Internet.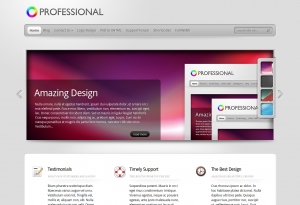 Demo: http://www.elegantthemes.com/preview/TheProfessional/
Me'gusta by BizzThemes
"Minimalist" is the word for me. And nothing says it better than the theme Me'gusta. The theme has a very neat and minimalist yet elegant look, and I'm guessing that with a few tweaks here and there, it can be adjusted to suit the purposes of any content-based corporate website.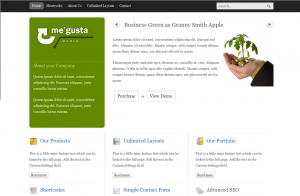 Demo: http://bizzthemes.com/preview/?theme=1171
Endeavor  by Mojo Themes
Okay, I may not choose this over the other three themes I've picked up for this category, but I would definitely recommend you take a good look at this when considering a design for your corporate website. It is a neat theme that would work for me for the most part except perhaps the typography with its generous use of all caps for all menus/headings, and some other elements. Nonetheless, it does seem to have a lot of promise.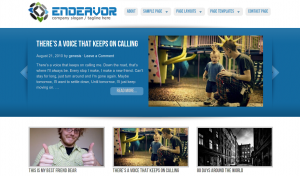 Demo: http://www.mojo-themes.com/demo/endeavor-child-theme/
Themes for Blogs
What is WordPress if not a perfect tool for blogging, right? And if you're looking to have your blog on a domain you've purchased, the following themes will come in very handy.
jQ by Devloux
This is a free theme with a focus on readability and a neat minimalist design. I liked this theme so much — coupled with the fact that I'm a sucker for free stuff — that I have even used it for my own personal blog.
You have several options in terms of the font you can use for your blog posts, the background color, and font size. Tweaking the theme is also quite easy so anyone with a basic knowledge of CSS can work on it and modify it as per their own tastes.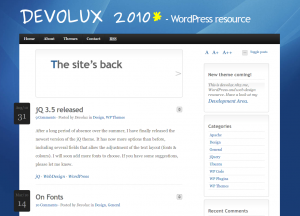 Demo: http://devolux.nh2.me/
Polished by Elegant Themes
Like I said, these guys have come up with some really great designs. And Polished is one such theme that's just, well, "elegant."
You could use it for a corporate website or a magazine-like website too, however, it's more suited for a blog and can add some great features such as that neat homepage slider that can feature all your important posts.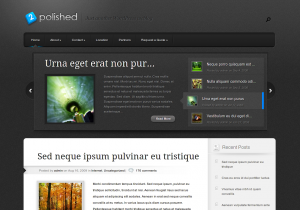 Demo: http://www.elegantthemes.com/preview/Polished/
Pure by Theme Trust
This is an excellent theme for those who want a strictly simple design with an emphasis on readability. Large serif typeface for headings doesn't let you look at much else other than the content, which I'm guessing was the main purpose of the designers.
It also has a neat slider on the homepage for displaying all your featured posts.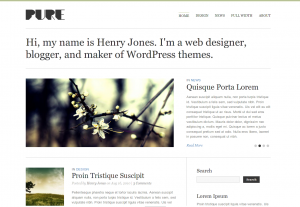 Demo: http://themetrust.com/demos/pure/
Oracle by Theme Trust
This is another excellent theme for blogs that have a lot of content. It is also quite suitable for a magazine website although there are some things about it that wouldn't make me choose it for that purpose. For example, the homepage featured post area contains static content rather than a flash or JavaScript-based slider. It also doesn't have built-in social bookmarking features. But hey, that's just me.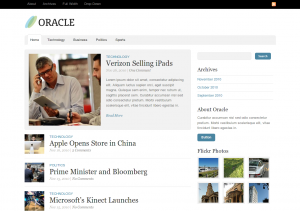 Demo: http://themetrust.com/demos/oracle/
Themes for Magazines
Creating a good magazine theme is probably one of the most challenging tasks for a web designer. That's because not only do you have to fit in a lot of content in a limited area, but also do it in a way that provides it a neat and clutter-free appearance. The Internet is full of badly designed themes that can make your head whirl with all the content and badly arranged typefaces, which is what makes the following themes stand apart even more in my opinion:
Traction by Theme Foundry
This is the best magazine or news theme that I have ever seen for WordPress in a long time. If I ever created a news or content-based website, this is the theme I'd purchase. Perhaps having just two columns could mean less space for ads and featuring a bunch of different categories, however, the rest of the elements in this theme look so perfect to me that I wouldn't give it a second thought before I whipped out my credit card.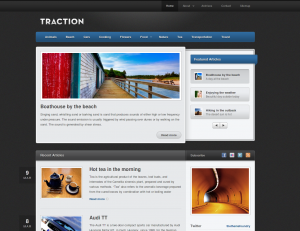 Demo: http://demo.thethemefoundry.com/traction/
Magnificent by Elegant Themes
Now this is what I mean by excellent design, usability, and an ability to crunch in a lot of content without making the page appear messy.
The fact that amazes me most about this theme is that despite the small size of the text, it so easy and pleasant to read. It is also available in seven different color schemes to suit your taste.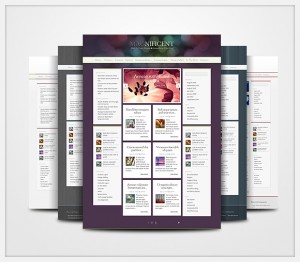 Demo: http://www.elegantthemes.com/preview/Magnificent/
Continuum by WooThemes
This is another very neatly designed theme with well-defined elements to cover every type of article on your online magazine. It even has a dedicated area in the header for featured ads and the different type of elements displayed on the demo prove just how much potential this theme has.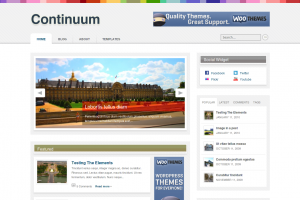 Demo: http://demo.woothemes.com/?name=continuum
Snipped by Templatic
This is by far the most interesting and innovative design I've come across for a magazine or a news website. Instead of creating a strict grid layout with content blocks, the guys at Templatic have chosen to assign a block to each post and arrange those blogs in a flexible grid layout.
The blocks realign themselves based on the width of your window ensuring that you have a neat layout in front of you at all times. The look of the theme is quite impressive too, as you can from the screenshot below.
The only negative aspect that I can see with this theme is the lack of well-defined areas for featuring ads or other commercial information on the home page.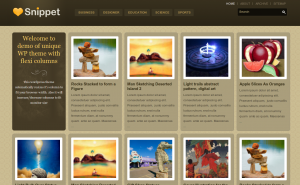 Demo: http://templatic.com/demos/?theme=snippet
Themes for Online Stores
This is still a sore spot for WordPress as there aren't many plugins for WordPress that can turn it into an eCommerce powerhouse such as Joomla! + Virtuemart or Drupal + Ubercart without having to do some coding yourself.
Nonetheless, WordPress is quite capable of handling any eCommerce store where all you want to do is feature your products and sell them to customers online. However, if you're looking for something more complex such as customers management, order status update notifications, or any other complex administrative processes that major online stores require, you may need to do quite a bit of coding to make that happen.
For others, here are some amazing themes that will help them turn their website into a feature-rich and attractive store in no time:
MyProduct by Elegant Themes
This theme is perfect for someone looking to sell a service around a product or something similar. It doesn't have a featured products option, which means it's probably not a great theme for someone looking to sell a bunch of products.
Nonetheless, for someone selling a particular service, this theme could easily take a spot among the top five desirable themes.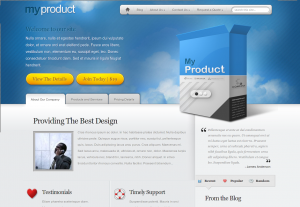 Demo: http://www.elegantthemes.com/preview/MyProduct/
eStore by Elegant Themes
This theme is as perfect as it gets in terms of displaying your products in an elegant manner. Sheer brilliance of design and a class apart in terms of usability; this theme is my favorite theme for an online store.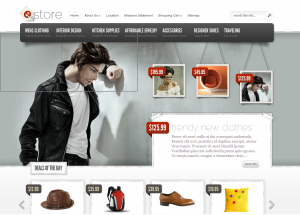 Demo: http://elegantthemes.com/preview/eStore/
Store by Templatic
This is quite differnet from the stuff I have picked up for this category, but it just seems to "work." The entire homepage is contained in a small area that doesn't require you to scroll at all. It also allocates a good amount of space for featured products letting the customers concentrate more on the products than the theme itself, which in my opinion, is a very smart move.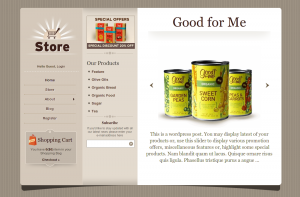 Demo: http://templatic.com/demos/?theme=store
eShop
This is another excellent theme from the guys at Templatic. It has that overall Apple store-like feel, and features a neat grid where you can display all your products right on the home page. It also has a dedicated area for displaying your most current promotion along with a slider on the homepage that can display your most popular or featured items for sale.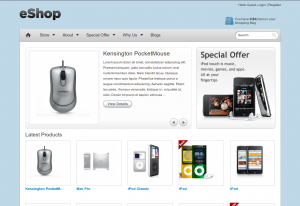 Demo: http://templatic.com/demos/?theme=eshop
A large part of a content management system's appeal – apart from its intrinsic features such as usability, security, etc. — lies in the number of themes and plugins available for it. When that is considered, WordPress is definitely as popular, if not more, than other open source CMS leaders such as Joomla! and Drupal.