Fun with Filters in Photoshop

We will run through different Filters in Photoshop and it different parameters and effects. In this tutorial, we will have a fundamental overview of the functions and effects if we use the certain filters in Photoshop.
But first, we will need to locate the Filters. On the main menus, just find the Filters tab and it will bring down the list of filters available.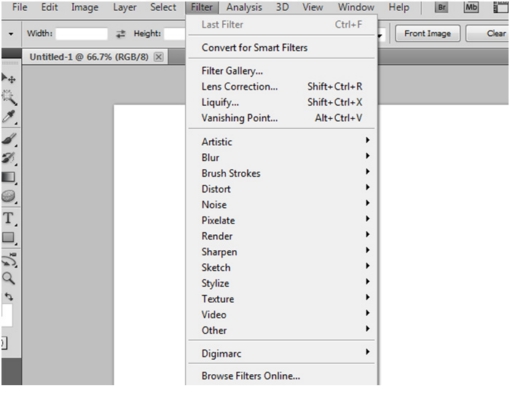 From this point, you can now start using the filters, but you can also view the filters through the Filter Gallery, which give you a more detailed preview of each filter.
Here, we can preview the outcomes or results done to the image after we apply a certain filter. In the example below, we can see the different effects done to the image under the Artistic Filters.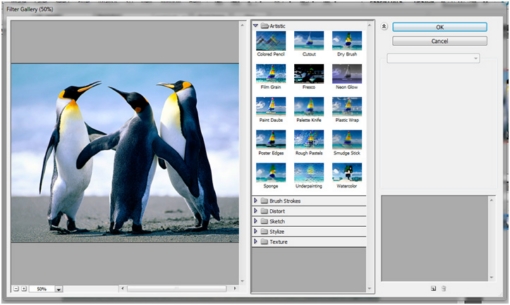 Note: of course you have to open a valid picture or document to use a particular filter on it. Some filters will not be available when working on a file which is on a grayscale color mode or indexed color mode. Some filters will also be available for use when the image is on a different bit channel.
For now we try the WATERCOLOR filter effect.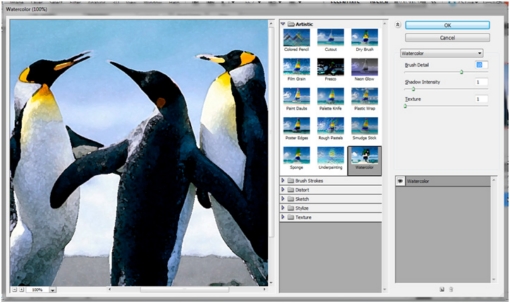 The picture will now look like as if it was a piece of art painted with watercolor, just like the filter name says. For this filter effect, we use :
brush detail: 10,
shadow intensity: 1,
and texture: 1.
Of course, please try out other filters and see different effects. For example, the cutout filter effect which is nice to use when creating images that needs few colors such as gif files used for web and printing.
Now we try out the filters in the Brush Strokes.
The filters that belong to this group does not seem far from the artistic filters, which also gives the image an artistic appearance by applying strokes.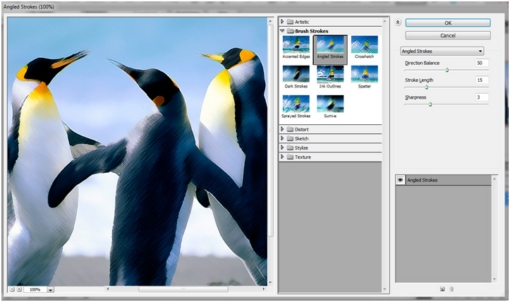 Here, we made the image like a neatly done stroke artwork. Here we use:
Direction balance: 50
Stroke Length: 15
Sharpness: 3
Next would be the Distort filters. This filter group will be quite useful when creating fantasy like images or editing new images to look like an antique photo.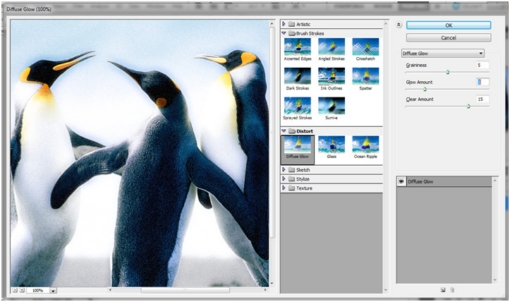 This filter effect is called a Diffuse Glow effect. The parameter is up to you.
Here we use:
Grainess: 5 (set it to zero to achieve a noiseless and clear appearance)
Glow amount: 5
Clear amount: 15
Other filter effects such as the glass and ocean ripple will make the image appear like it is place behind a glass.
Next filters are the Sketch Filters, and one the most popular effects is the Chalk and Charcoal Effect. It makes the image like it was sketched by hand. This effect is applied in order to simulate a charcoal portrait of a person, but not really like the real charcoal and chalk medium.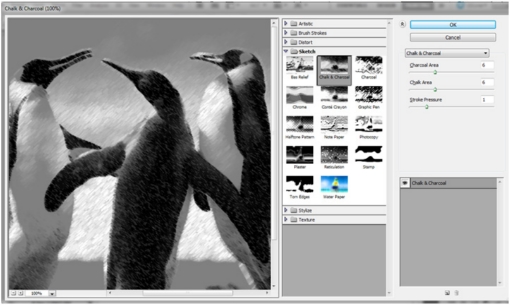 Of course there are lots of effects and filters that belong to this category. For example, the graphic pen, will make the image look like it was hand drawn using a ink pen.
Although one particular filter would seem to be different from other effects that belong in this group, the chrome filters. Just like its name, chrome will render the image a silver, metallic or mercury like effect.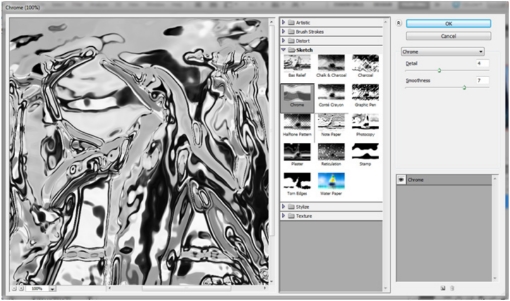 One of my favorites is the Halftone Pattern effect. And it is very useful when making a retro-like or poster inspired theme image.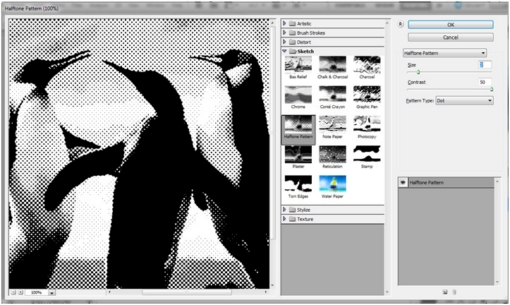 You will not achieve this appearance like on the example when using the default settings. You have to adjust the Contrast to the max level to achieve a solid black effect.
There are some useful filters that are not shown in the filter gallery.
The Blur effect which is quite useful in much more advanced purposes in combination with other tools. Blur filters are also useful when smoothing skin and face makeovers projects.
The Sharpen effect is also useful when you need to emphasize the image's edges. This effect is also useful when you need to simulate professional camera techniques such as tilts.
Noise effects also come handy when you need to create images with texture and create depth. This effect is also used to imitate antique photos.